Plus size fashion and women are starting to gain momentum in a positive direction and it feels great. As a pleasantly plump diva myself, this online boutique has profoundly struck gold with me. As they clearly know and understand, how to showcase plus size apparel with the correct sized women; to reflect the beauty of the fashion on a curvaceous figure. Now that triggered a thought that still baffles me. Every since I was a little girl, I remember my mother taking me to Joslyn Art Museum here in Omaha, Nebraska, and viewing beautiful paintings and sculptures of gorgeous voluptuous women (who obviously were comfortable in their own skin, while men surrounding the women virtually worshipped their every move).
As time progressed, I noticed watching classic movies starring Mae West, Jayne Mansfield, Marilyn Monroe, Diana Dors (who bears a striking resemblance to Marilyn Monroe, was often referred to as the "British Marilyn"), Elizabeth Taylor, and Sophia Loren that place their physical attributes and beauty on display; but more in a goddess sort of way; which apparently psychologically stimulated sexual male fantasies. These women were revered not ridiculed for their sexuality and sultry figures. However, this generation has missed the mark tremendously and Hollywood has played a integral part in women, questioning their own beauty and self worth. I'm completely amused by all of this and don't allow outside influences to define me, as I have and always will live by my own rules.
Now, getting back to this boutique, that struck gold with me is called Plus Size Lingerie Boutique. I absolutely love the naughty sexy fashion and will purchase plenty for myself; especially, since I'm tighten, toning and redefining my figure through proper nutrition and exercise. Although, this boutique caters to lingerie, it also showcases some nice customs for your next adult birthday, masquerade or Halloween gathering will certainly turn heads, and people asking "Wow, where did you get that? I love it!" Below are just a few sexy lingerie styles available to Shop.
Ladies Choice Open Front Babydoll
If you're proud of your body then don't be afraid to show it off, especially for a sexy night in the bedroom. The Ladies Choice Open Front Babydoll comes in different colors all with an open front and that is entirely see-through. A matching thong finishes off this look that will help you seduce whatever man you want. There's no way anyone will be able to resist you coming on to them in this outfit.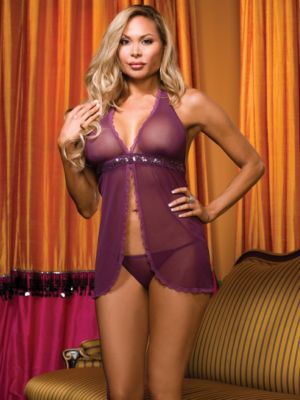 Leopard Lace Trimmed Babydoll
Go for a walk on the wild side after dark when you put on the Leopard Lace Trimmed Babydoll. This babydoll has a leopard print underwire bra built into it and comes with a pair of panties with a matching pattern. The body of the babydoll is short and mesh, letting your body show through it. Your partner will be instantly aroused when he goes to the jungle and sees you in this outfit.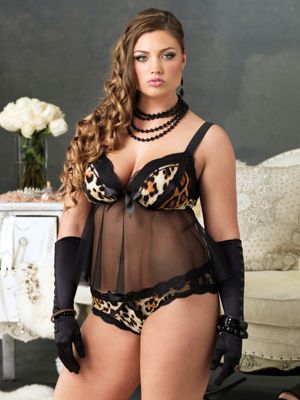 Chiffon Leopard Print Babydoll
Take him into the jungle and give him the adventure of a lifetime when you show up wearing the Chiffon Leopard Print Babydoll. This incredibly sexy lingerie has a leopard print bra attached to a see through mesh covering with a slit up the middle. You'll also find a matching leopard print thong included in this purchase as well. Make it so that you become a feisty feline with this hot outfit.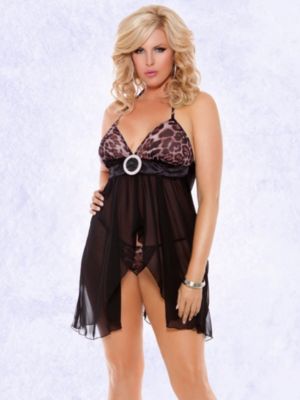 Babydoll with Functional Tie
Let him unwrap you so that you can be his little present when you put on the Babydoll with Functional Tie. This hot and intimate lingerie set features a pink babydoll with a customizable bow tie on the front that you can put in any position you want. You'll be his favorite gift ever in this hot piece.